Training for Broadway
7 Ways To Train For Broadway In A Hybrid World
The landscape of Musical Theatre training has totally changed.
Even with in-person opportunities opening up, we are entering a brand new era where more training (and more auditions!) are happening virtually. 
Not only are performers expected to audition live and in-person…
Now you can virtually train any skill, at any time, wherever and whenever you want.
Overwhelming… we know.
But if you have big dreams of making it to Broadway, you need to be smart about your training.
Here are our top 7 ways to diversify your musical theatre skills and train for Broadway in a post-pandemic world.
1. Practice the art of the self-tape.
What's a self-tape, you ask?
It's all in the name. A self-tape is an audition that actors film themselves, remotely.
Due to the pandemic, self-tapes have become increasingly popular in the last year… so popular that they've even begun to replace the first round of auditions for Broadway shows. 
Now, auditioning for a Broadway show is as easy as a click of a button.
Depending on the type of project you're auditioning for, you may have to record yourself singing a few musical theatre pieces, a monologue, a dance, or even some dialogue from the show.
Here's an example from the most recent casting breakdown for digital submissions for Dear Evan Hansen on Broadway: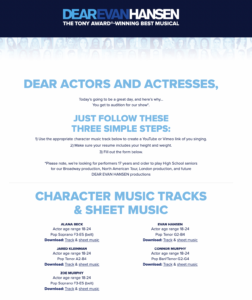 Now is the perfect time to start practicing preparing for and filming your own self-tapes! 
Challenge yourself to learn new material, give yourself a deadline, and put together a self-tape as if you were submitting it to the top casting office in NYC.
The more you practice, the easier it will be for you when you enter the professional world!
2. Take classes that challenge you.
It's easy to keep doing what you're good at. 
And just the thought of doing something new might send a shiver down your spine.
But the reality of the ever-changing Broadway theatre industry is that performers need to do it all.
Singing. Dancing. Acting. Singing while dancing while acting. Contemporary Musical Theatre. Golden Age Musical Theatre. Pop. Rock. Jazz. Ballet. Tap. Hip-Hop. Modern. Shakespeare…
You know the drill.
So why not use this time to dive into work that scares you? 
Never done Shakespeare before? Take a Shakespeare class. Never played an instrument before? Pick up guitar lessons. Never sung a pop song before? Start working with a vocal coach.
Get comfortable with the uncomfortable. And don't be afraid to fail forward!
3. Build your resume.
Your resume is just as important as any singing, dancing or acting class you may take. 
Don't have a resume just yet? Build on top of what you know. Your resume should include your name, your contact information (email / phone number), your height, your theatrical credits, your training, your special skills, and anything else you deem important.
Have a resume but feel like you're lacking credits? Seek out new opportunities! Your local theatre is a great place to gain experience as you're building your resume. Try out for your school musical. And keep searching for training opportunities both online and in-person. Whether that's dance classes, acting technique, voice lessons, summer training programs, online courses, performing arts schooling, masterclasses, etc… Anything (or anyone) that helps you get better at what you do is worthy of noting on your resume!
4. Lean on your mentors and community.
REAL TALK: Broadway ain't all fun and games. It's about surrounding yourself with the right people, finding a mentor you trust, building a strong work ethic, and truly loving what you do.
At the Broadway Collective, we've spent YEARS working with real Broadway professionals honing in on what it truly takes to help make your Broadway dreams… well, a REALITY.
And the honest truth? We've learned that you are 100% influenced by the company you keep. 
So find a mentor you trust. Who better to learn from than someone who's already been there, done that? The best way to discover what it truly takes to make it to Broadway is by getting it directly from the source!
Be honest. Ask questions. Take notes. Listen carefully.
Don't have a mentor or community of your own just yet? Join our Facebook Group, COLLECTIVELY SEEKING BROADWAY. Totally free to join! Inside, you can hang out with The Broadway Collective Founder Robert and other industry professionals and performers, ask questions, and meet students and families who love musical theatre as much as you do!
5. Do your research.
When it comes to musical theatre training, there is nothing more important than doing your own research.
And the only way you'll be able to understand the future of Broadway is by learning where it all came from!
Listen to cast albums! Sure, we ADORE Hamilton… but have you ever listened to She Loves Me? Carousel? Fiddler On The Roof? Oklahoma? South Pacific? On The Town? Fiorello? Take advantage of resources available to you like YouTube, Spotify, iTunes… etc. You may just find your next audition song!
Read plays! How familiar are you with the works of Arthur Miller? August Wilson? Tennessee Williams? Look for lists and check out the plays that have won awards in the past. The Kilroys. The Obie Awards. The Lucille Lortel Awards. The Outer Critics Circle. The Drama Desk Awards. The Drama League Awards. The Off-Broadway Alliance Awards. The Princess Grace Award. The Relentless Award. American Theatre Critics Association Awards. 
And once you immerse yourself fully into the history of theatre…
Check the news! Stay on top of the latest theatre updates from around the world. Which musicals are heading to Broadway? Which plays? Which productions are heading out on tour? Which shows are currently in development? Who are the hottest up-and-coming writers? Directors? Choreographers? Musical Directors? Producers? Casting Directors? The Broadway associates and assistants today will be the leaders of tomorrow!
6. Invest in singing, dancing and acting training ONLINE.
How do you succeed on Broadway? Preparation, preparation, preparation. 
Stay on top of your game by staying in class—even if you cannot be there in-person!
If we've learned anything over the past year when it comes to training, it's that artists are resilient. We will do anything it takes to stay on top of our craft… so that when the time comes to put our skills to the test, we are prepared. 
Hold yourself accountable and track your progress through online classes in singing, dancing and acting!
Not only do virtual classes allow you the freedom to take whatever you want, when you want— they also give you the opportunity to train with folks from around the world! One day you can learn the dance combination for Hamilton from the associate choreographer herself… and within a few hours you can work your musical theatre material one-on-one with the Broadway casting director for Phantom of the Opera! 
7. Take advantage of IN-PERSON theatrical training opportunities.
What's the difference between Film/TV and Theatre?
Your favorite television shows and movies are filmed months (sometimes years) in advance, scenes are shot out of order, and ultimately edited together to create a cohesive story. 
Theatre, on the other hand, does not exist in a void.
It's live. It's collaborative. It has to be shared in-person, in front of an audience.
Yes, we cannot stress enough the importance of online training. It's how we hold ourselves accountable and grow on our own time.
But at the end of the day, it's the in-person experiences that carry with you for years. 
It's the adrenaline you feel performing a song for the first time in front of a room full of people. It's the live feedback you receive from industry professionals on the work you've done. It's the courage you find within yourself to get up and dance.
Whether you have the opportunity to put on a musical in-person, or you get to perform in a live masterclass – there is something infectious about being a part of something greater.
Wondering if online training is right for you? Click here to chat with a member of our team!